A great Read from the Guardian.
The market town stood shoulder-to-shoulder with the north-west's mighty industrial cities – until a football stadium relocation and rival shopping centres gutted its historic centre. Is the fightback coming too late?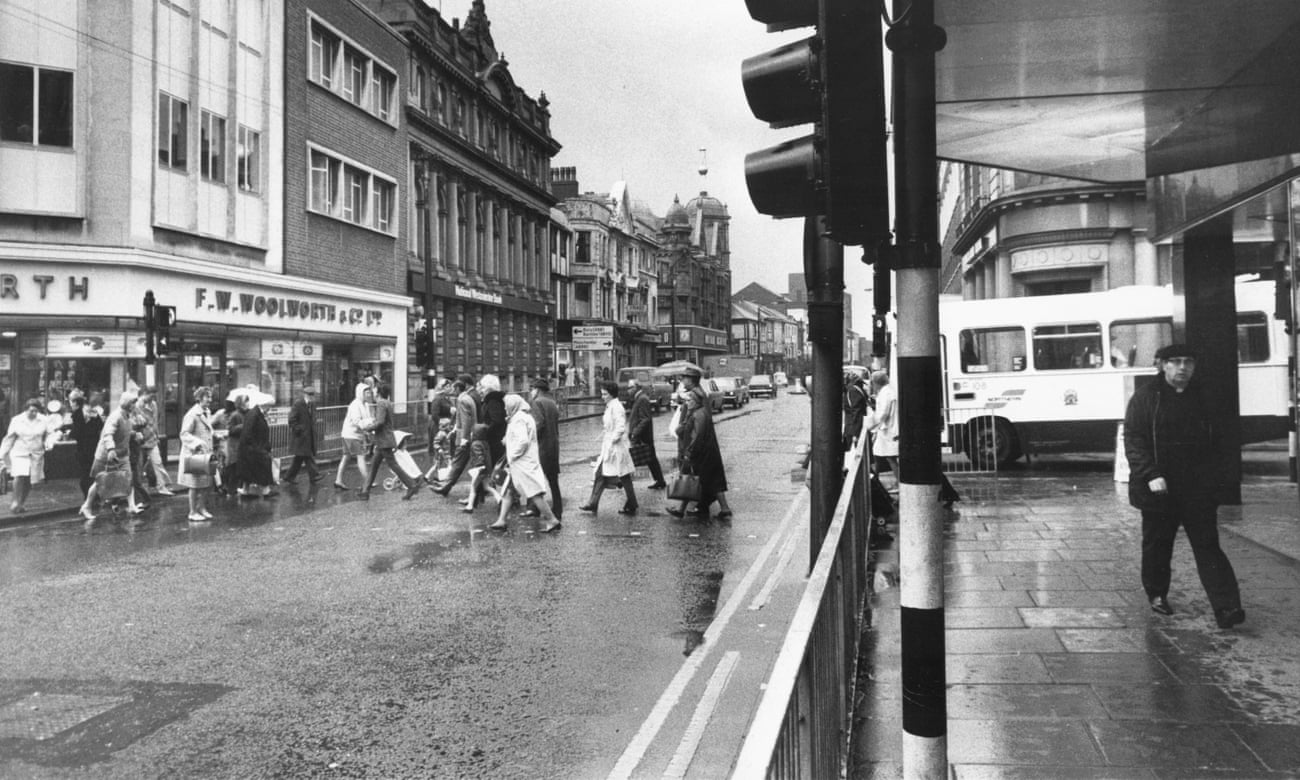 Bolton's Deansgate was a bustling commercial hub in the 1970s. Photograph: Don McPhee for the Guardian
The final day of 2016 was a Saturday. In the centre of Bolton, Lancashire, the streets should have been crowded with shoppers at the sales. A few shops were doing decent trade, but it was hardly thronging. Those with Christmas money still in their pockets might have been attracted to the grand-looking jewellery shop with the large "sale" posters in the window. But this was no regular post-Christmas sale. After 145 years of business, Prestons of Bolton was closing for good.
As staff at "the diamond centre of the north" sold off the last few rings, five miles north Bolton Wanderers were preparing to face Scunthorpe United at the Macron Stadium, the club's gleaming, out-of-town base. They went on to win their top-of-the-table clash 2-1, in front of a crowd of 17,000 fans. Nearby, many thousands more people shopped at Middlebrook, the adjacent mall.
Since the stadium opened 20 years ago, Bolton's town centre has shown signs of decline. In fact, decline is a polite word. The commercial heart of one of the largest towns in the UK is in nothing less than an existential struggle.
In 1988, I stood on Victoria Square, the main square of Bolton, having been given the day off school to come and see the Queen open a brand-new swimming pool, the Water Place. Standing in the same spot now, little seems to have changed since that day: the magnificent Victorian town hall is still flanked by imperious lions, and everything seems as it was.
Turn around, however, and a different story reveals itself. Opposite the town hall lies the abandoned home of the defunct department store BHS. The wonderful Victorian building that was the town's first central library is now a betting shop. And the Water Place? That closed in 2002.
"This is the way the world ends. Not with a bang but a whimper." With speculation that Marks and Spencer might be the next big name to abandon Bolton town centre, TS Eliot might well have been writing about my home town.
Almost one in four shops is vacant, which is the sixth worst figure in Britain. The Joseph Rowntree Foundation recently named it one of the 12 "top struggling cities in the UK".
At a food bank warehouse in the town centre, volunteers made clear their sense of despair over the state of their town.
"I've lived in Bolton 40 years. I was proud of the centre when I came from Accrington," says 71-year-old Hazel Kirane. "People used to come from all over and shop and say what a wonderful centre it was. But now, it's fragmented. Somebody described it to me, Bolton, as being a doughnut – the centre's gone out of it. It's sad what's happened to Bolton."
Sad is a word you hear a lot around here. "I think there are too many pound shops, too many discount stores. It's sad that it's declined," says Lesley Wetherall, 67.
Over coffee in the town centre, local MP David Crausby vents his own frustrations. "I think we've missed some opportunities in Bolton town centre. What I do believe was a serious mistake was to allow shopping on the other side of the dual carriageway, which effectively expanded the size of the town centre. At a time when traditional retail shopping is going down, we've ended up with a bigger town centre."
Crausby, Labour MP for Bolton North East since 1997, points the finger at big-box retail outlets. "A number of shops opened over where the Sainsbury's is, and they seem to be prospering. But, guess what? It just shuts down shops on the other side of town."
Bolton's problems aren't unique, says Stephen Young of Bolton council. "All town centres aren't what they once were," he says. "People shop online now. People don't come into town centres and do food shopping any more. There are more people since the recession coming into Bolton town centre and spending money."
The market town was granted its charter in 1251 and was small, but occasionally significant, for the next 500 years. In 1651, James Stanley, the 7th earl of Derby, lost his head during the civil war outside Ye Olde Man & Scythe, one of the country's oldest pubs.
It was during the Industrial Revolution that Bolton really came to prominence. Samuel Crompton's invention of the spinning mule in 1779, and the perfect damp conditions in the town for spinning, saw Bolton become a giant of cotton production. Along with neighbouring towns, it became the world centre of the cotton industry, based on the might of nearby Manchester. Bolton's population swelled from 37,000 in 1811 to 240,000 only 100 years later.
The cotton industry remained a major feature well into the postwar years. By the time my parents moved here in the early 1980s, though, much of the industry was gone. The 70s and 80s brought their fair share of economic hardships, but even when I was growing up, the town remained a bustling commercial hub. It was entirely normal for people to come from all over the north-west to shop in Bolton. Most popular was the Market Hall, home of independent traders, quirky shops, chain stores and big local names.
As the Blair/Brown boom rolled on, Bolton seemed to be doing well. Our own Sara Cox was the first voice heard by millions every morning on the Radio 1 breakfast show, Peter Kay became the most popular comedian in the country, and we even claimed Sir Ian McKellen (schooled in Bolton) at the height of his Gandalfian greatness. Alongside this cultural confidence, that other great marker of civic pride – the town's football club – was soaring. Thanks to manager Sam Allardyce, Bolton Wanderers were on their most successful run since the 1950s, mixing it in Europe with the likes of Bayern Munich, Atlético Madrid and Red Star Belgrade, and regularly outplaying the big-city boys of Arsenal and Liverpool.
The scene of these triumphs, however, wasn't in the town centre. It was at the Reebok Stadium, the club's sparkling new home, which replaced the dilapidated old Burnden Park, where I'd watched my first match as a child in the 80s. Burnden Park had been in such a state of disrepair that one of the stands was replaced by the flagship store of Normid, the United Co-Op's supermarket brand. By the time a new ground was being built, it wasn't Normid who'd be sponsoring, but Reebok, the global sportswear brand founded in Bolton in 1890. (The stadium was renamed the Macron Stadium in 2013.) Instead of being half a mile out of town, and walkable for the majority of Boltonians, the new ground was located conveniently for the M61 motorway. The days of walking to the stadium were over.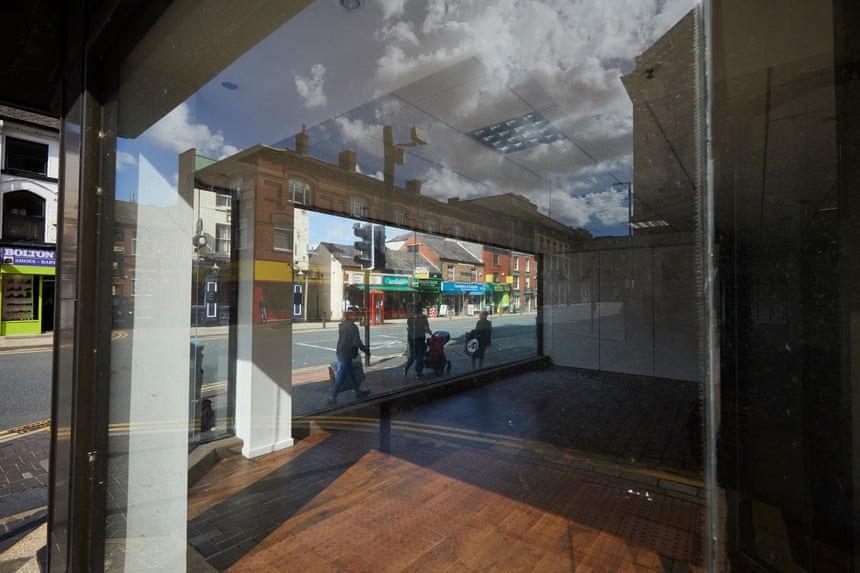 A shopping street seen through the window of the recently closed Beales department store, previously known as Whitakers. Photograph: Christopher Thomond for the Guardian
Around it, a sprawling retail park was built. Middlebrook started big, and has kept on growing. It has its own train station, police station and a sports arena that hosted events in Manchester's 2002 Commonwealth Games. The site even got its own school: Bolton Wanderers free school, which Ofsted described as "inadequate" in every area and is soon to close, with questions being asked about its financial dealings.
Advertisement
Around the same time as this large development to the north of Bolton, there were temptations for shoppers to the south. The Trafford Centre, one of Britain's largest shopping centres, was built within easy driving distance of Bolton. Manchester city centre was in the midst of its own millennial renaissance after the IRA bomb of 1996. Suddenly, shoppers from across the north-west who used to come to Bolton were spoiled for choice.
The centre might have been resilient enough to deal with one, or perhaps two of these competing retail opportunities, but all three together seems to have proved too much. Manchester's re-emergence as a shopping destination was always likely. Yet Bolton's decision to move the football stadium out of town and build a huge retail park seems to have contributed to its downward spiral.
Meanwhile, online shopping presents a challenge everywhere: the closure of national retailers such as BHS and Woolworths have left holes in high streets across the country. Yet Bolton did itself no favours, stripping the Market Hall of its distinctive character and allowing small traders to be replaced by chain shops, making Bolton's offer more generic.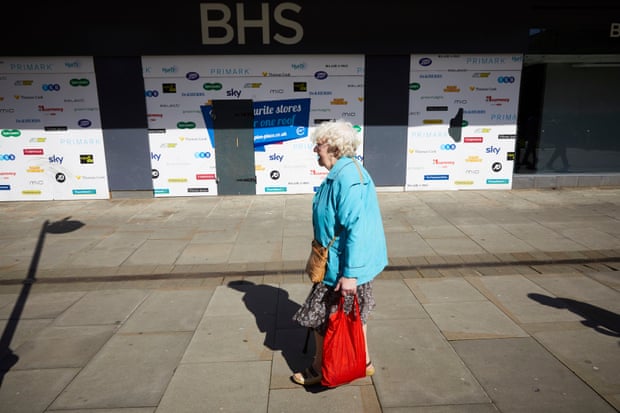 The closure of national retailers like BHS and Debenhams hit Bolton hard. Photograph: Christopher Thomond for the Guardian
The evisceration of the Market Hall was greeted with widespread dismay. "It was very much a community place – people came there because of lots of different shops, little market stalls," says Sam Bagley, 25, who works for Urban Outreach, a local charity. "That was the identity of Bolton. I think when they closed the Market Hall and relaunched it as it is now, they lost that identity. It became a nothing of a town."
"A lot of people were very disappointed when the Market Hall was changed," says Ellen Greenhaulgh, 54, while shopping in the town centre. "It was one of those places where you could get those little useful things in life. You built up relationships with the people that were running stalls. A lot of people felt not listened to."
When I was growing up and used to walk into the town centre most Saturdays to window shop and buy CDs, the place was thriving. Yes, there were national options such as Debenhams, but we also had Whitakers, a classic local department store in a fetching half-timbered building near Bolton's main Post Office. As a child it was where I'd go to buy shoes and get a haircut.
In 2011, Whitakers was bought out by the national chain Beales. On the same day that Prestons, the jewellers, closed its doors for the last time, so did the store, which had been at the heart of Bolton since 1829. Standing outside its shell and looking across the road, you can see the husk of Sweetens, an independent bookshop that has lain derelict since it closed in 2011.
Along with the loss of Prestons, the closure of Whitakers has been a hammer blow to the local retail scene. "Things like Prestons closing and Beales closing – they're part of the way that you grew up, with your parents and your family," says Greenhaulgh.
Young from Bolton council says the local authority did all it could to prevent the closures. "We were working with Beales for a long time. They also pulled out of a number of major towns. While it's obviously very sad, we did everything we possibly could."
It would be easy to pin the blame on the council. There have been baffling decisions, such as allowing the beautiful old fire station to be knocked down and replaced by generic flats. Others decry money poorly spent: there was an uproar last year when local journalists uncovered a £300,000 grant from the council to a legal firm in exchange for keeping their offices in the centre of town.
But the council can't be blamed for the success of Middlebrook. Shoppers seem happy with it, and its business rates are filling Bolton's coffers, which have been badly stretched by central government cuts.
Meanwhile, in the town centre, even the chains are struggling now. News of closures comes through with alarming regularity; Pizza Express is the latest casualty. The company told the Bolton News: "We have made the decision to close our restaurant in Bolton, to focus trading on the various restaurants we have in the surrounding area; including nearby Bury, Prestwich and the seven sites we have in Manchester."
Signs of a fightback
Bolton may not yet go out with a whimper, though. After 18 years without one, a cinema has finally been built in the town centre, in the old Market Hall, which itself is undergoing an imaginative development that has seen old vaults dug out to provide space for restaurants. It is a beautiful space, sympathetically restored in order to attract more of the night-time economy.
Elsewhere, the Octagon theatre has won numerous recent awards, while the town's museum and art gallery are set for major investment. An annual food and drink festival has begun to receive acclaim, while a large multi-storey car park is slated for conversion into retail space for independent traders. The town's population is expected to grow by 12% – roughly 33,000 people – by 2035.
Above all, hopes are pinned on the University of Bolton. The former polytechnic's teaching and residential buildings have been consolidated in the town centre, bringing with them a readymade group of customers. A new sports centre, named after the most renowned Boltonian of the present day, track cyclist and Olympic gold medallist Jason Kenny, is now open to the public.
Near the university campus, a new transport exchange will consolidate the train and bus stations into one site. It's a good idea, although the £48m cost has raised eyebrows, and public spending on transport in the north of England still lags far behind London. Will better transport links, educational and leisure opportunities be enough to save the once-thriving town centre?
"We're doing lots and lots, not only to attract the big boys but to help fledgling local businesses," says Young from the council. "The figures are showing positive things. I'm absolutely confident the Market Hall isn't the end. The private sector is voting with its cheque book."
The tired-looking shopfronts on Bolton's wide thoroughfare, Newport Street, once home to the city's famous elephants, have been renovated and painted. But the road still tells its own story. In the refurbished row of 20 properties are two charity shops, two pawnbrokers, a pound shop, a betting shop and a vaping shop.
A bigger question, perhaps, is what long-term damage has been done to civic pride. "Very quickly you can destroy it and [it takes] a very long time to rebuild it," says Crausby. "In all of our particular Lancashire town centres, we had something that was really quite unique – but most of this was born out of huge levels of prosperity. Towns like this were built on cotton, and it's gone. There is no cotton."
He remains hopeful, though. "We've got a great opportunity in a beautiful town centre and we've got to make it fit the 21st century."
Bagley, the charity worker, agrees. "Bolton's got a real chance at making itself again. People are very generous, from a charitable perspective; people want to help each other. I would very happily have my family in Bolton and shop in Bolton and continue to invest in Bolton." The city will need many more like him.
https://www.theguardian.com/cities/2017/aug/22/bolton-decline-northern-town-centre-slump#img-6